Caulking Nozzle Applicator Finishing Tool
If you want to apply caulk in a perfect line, this Stainless Steel Caulking Nozzle Finisher is definitely what you need.  It prevents uneven and excess application of caulk and gives you a professional result.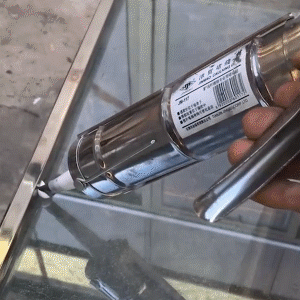 Perfect for Caulking and Sealing
It is a set of nozzles specially made for joint sealant, which can save a lot of time and make the sealant smooth when applying glue. Ideal auxiliary tool for all sealing operations. When it comes to caulking, these tools are perfect for getting the job done!
Wide Application
The caulk toolset can be widely applied for kitchen, bathroom, tank,sink joint filling finishing.
Your Home Caulk Finishing Helper
Made with high-quality stainless steel, rust-resistant and anti-corrosion properties. Durable and non-sticky, a good caulk finishing tool for us to have.
Features:
Perfectly Fill in and Seal Gaps


It is designed with a 45-degree muzzle that can soothe and fill caulk jobs easily, without messy and uneven finishes, give your home a new look.

Wide Variety of Sizes


It comes with 14 sizes: 5/6/7/9/10/12/13/16/20/25/26/28/30/35mm, different sizes that can easily meet your needs in sealing work when you seal the different places and angles.

Easy to Use

Easily improve agglutination quality! Create and remove excess caulk like a pro while soothing materials into gaps easily with the all-new easy caulk finishing attachment.

Easy to clean


Made with high-quality stainless steel, rust-resistant and anti-corrosion properties. Durable and non-sticky.The product is reusable and easy to clean, Use a plastic bag, a thin string or a small cleaning tool to insert and pass through to complete the cleaning
Specifications:
Caulking Nozzle :

Material: Stainless Steel

Weight: 40g/5.9 ounces

Size:5.2 x 2.48 x 2.48 inches / 10x5x5cm
Caulking Gun:
Color: Silver

Material: Aluminum Alloy

Size: 32.5 * 20.5 * 5.3cm / 12.80 * 8.07 * 2.09in

Weight: 521g / 18.38 oz
Package Includes:
Caulking Nozzle :

1*14Pcs Stainless Steel Caulking Tools Sealant Nozzle
Caulking Gun: